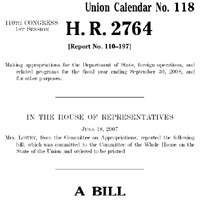 The House of Representatives is working today on the 2008 State / Foreign Operations Appropriations bill (H.R. 2764, or simply, "the foreign aid bill"). Yesterday afternoon Congress made public the full text of both the bill and the House Appropriations Committee's non-binding narrative report.
The bill reshapes aid for Colombia in some very important ways. Here are the six most significant changes.
We support all of them. This is a very good bill: it shows that a great deal of thought went into trying to get this policy right.
1. Less military aid, more economic aid.
Since 2000, over 80 percent of our aid to Colombia has gone to Colombia's security forces. The Bush administation's 2008 aid request would have continued that proportion, giving 76 percent of all aid to Colombia's military and police.
H.R. 2764 makes great strides toward establishing a balance to our priorities in Colombia. Military and police aid's share of the bill's Colombia funding would fall to 55 percent. Economic assistance would increase by over $100 million and moved out of the "Andean Counterdrug Initiative" account. This will mean significant increases in funding for rural development programs, judicial reform efforts, and assistance to internally displaced people.
Military / Police Assistance
(Millions of U.S. dollars)
2006
2007
2008, admin. request
2008, House Approps
House minus Admin.
Andean Counterdrug Initiative (ACI)
382.7
366.4
367
236.6
-130.4
Foreign Military Financing (FMF)
89.1
89.1
78
48
-30
International Military Education and Training (IMET)
1.7
1.7
1.5
1.5
0
Nonprolif., Antiterrorism, etc (NADR)
5.5
5.5
3.7
3.7
0
Total
479
462.7
450.2
289.8
-160.4
79%
78%
76%
55%
-22%
Economic / Social Assistance
Andean Counterdrug Initiative (ACI)
129.2
129.2
0
0
0
Economic Support Funds (ESF)
0
0
139.5
218.5
79
International Narcotics Control (INC)
0
0
0
22.3
22.3
Total
129.2
129.2
139.5
240.8
101.3
21%
22%
24%
45%
22%
Total Foreign Operations Aid
608.2
591.9
589.7
530.6
-59.1
Defense-Budget Military Assistance(est. based on 2006 amount)
152.6
152.6
152.6
152.6
Total Military / Police Assistance, all accounts
631.6
615.3
602.8
442.4
Total Aid to Colombia, all accounts
760.8
744.5
742.3
683.2
Keep in mind that over $150 million in additional military aid goes through a separate piece of legislation: the Defense Department Appropriations bill. So even if the foreign-aid bill is 55 percent military aid, all aid to Colombia from all sources would be 65 percent military aid.
The Appropriations Committee's narrative report explains the shift with some very strong language. Emphases are ours.
The Committee recommendation is part of a bill wide strategy to restructure the way the United States provides assistance to Colombia. The Committee has redistributed assistance to help the Colombian government focus on justice and rule of law as well as address the underlying and pervasive poverty that is the root of many of the problems in Colombia as well as the region.

…

Since fiscal year 2000, funding for Colombia provided by this Committee totals more than $4,300,000,000. Approximately 76 percent of that amount—$3,300,000,000, over one million dollars per day for the past seven years—has gone to the Colombian security forces. … The Committee is concerned that the perennial goal of reducing Colombia's cultivation, processing and distribution to restrict supplies enough to drive up prices and diminish purity has not worked and the drug economy continues to grow—further weakening the fabric of Colombian society. The Committee notes that this is now year eight of an ever more evolving multi-year plan. This program is not working and the Administration's fiscal year 2008 request for Colombia is virtually identical to previous requests, which contradicts assurances that the Administration has provided to Congress over the years that the social component to Colombian aid would be significantly increased and that gradual ''Colombianization'' of the program would take effect.

…

The Committee continues to have grave concerns with the current aid package that emphasizes hard-side assistance over development assistance. The Committee remains concerned about the Administration's follow up program. The Committee's funding plan emphasizes a more balanced strategy shifting aid from the military and strengthening civilian governance, humanitarian assistance and rural development. The Committee also intends to initiate a plan to transition more of the military operations from the United States responsibility to the Colombian Government. The Committee expects a follow up strategy on steps to normalize funding for Colombia, similar to the approach used in this bill, which leads towards an eventual "nationalization" of the Colombian program.
Republicans on the committee are displeased with this shift, as their dissenting language in the committee report indicates:
We remain deeply concerned about the future of the relationship between the U.S. and Colombia as a result of provisions and funding decisions in this bill. President Uribe won his presidential election with an 84 percent approval rating. [This is simply false; he got 62 percent of the vote in May 2006.] The citizens of Colombia support him overwhelmingly yet that level of support is not reflected in language included in the bill and accompanying report. The Colombian Government has been a critical ally of the United States in the fight against narcotics production and trafficking. However, instead of recognizing the progress that Colombia has made over the past decade, this bill cuts funding. Moreover, it shakes the very basis of the cooperative relationship that the U.S. has developed with the Colombian government. This is no way to treat such an important ally.

Additionally, there is a $100,000,000 shift in focus of U.S. counter-narcotics and counterterrorism policy for Colombia from eradication and interdiction towards alternative development. The United States is the only partner of Colombia providing external support for eradication and counterterrorism, while international organizations and other donor countries assist with alternative development programs. Therefore, such a shift would have significant effects on the ability of the Colombian Government to continue its commitment to fight coca cultivation, the primary source of funding of terrorism in the Western Hemisphere.
2. Economic aid specifically directed toward justice and alternative development.
The bill mandates the following minimums for non-military priorities in Colombia:
$5 million in ACI aid for the Colombian Police eradication program must go to "program assistance to protect biodiversity, indigenous reserves and Afro-Colombian lands subject to spraying in Colombia."
$15 million in ESF must go to "economic development activities in Afro-Colombian and indigenous communities, in consultation with Afro-Colombian and indigenous authorities and community members."
$16.5 million in ESF for judicial reform programs.
$8.25 million in ESF for "organizations and programs to protect human rights."
$5 million in ESF for the Prosecutor-General's office (Fiscalía).
A maximum of $23 million in ESF for the demobilization and dismantlement of ex-combatants, of which:

At least $10 million should go to the Justice and Peace and Human Rights units of the Fiscalía to implement the Justice and Peace law.
At least $5 million should go to the Fiscalía, Procuraduría or Defensoría to establish a victims' protection program.
At least $3 million should go to the Defensoría "to support legal representation of victims as required by the Justice and Peace Law."
Up to $5 million for demobilization, disarmament and reintegration of ex-combatants, if the conditions in (5) below are met.

$3 million in ESF for the OAS verification mission (MAPP-OEA): $2.7 million for the mission itself, and $300,000 for the Inter-American Human Rights Commission's monitoring of the demobilization process.
$12.25 million in FMF for riverine drug interdiction.
$5 million in FMF for naval aviation and interdiction/security operations.
3. Stronger human-rights conditions.
For years, 25 percent of military assistance in this bill has been held up pending two certifications from the State Department, each of which would free up 12.5 percent of that year's aid. The State Department has had to certify that Colombia was meeting several conditions, most of them having to do with ending impunity and cutting ties to paramilitary groups. (See the box here for a summary of these conditions.) Several past certification decisions have been controversial.
The 2008 bill would strengthen these conditions further. First, it would hold up 40 percent of military aid, releasing 25 percent in a first certification and 15 percent in a second certification after July 31, 2008.
Second, the language of several conditions is toughened somewhat, for instance requiring "demonstrable efforts to cooperate fully with civilian prosecutors and judicial authorities" rather than "substantial progress in cooperating with civilian prosecutors and judicial authorities." Third, Afro-Colombians are included alongside indigenous groups as communities whose land and property rights, the certification must specify, are not being violated by the armed forces.
Fourth, for the first time, the certification report must detail specific actions the Colombian government has taken to meet each requirement, and must indicate cases or issues where the Colombian government's actions or responses have been inadequate.
Fifth, a new requirement responds directly to "para-politics" concerns. It calls for the State Department to certify that Colombia's civilian judicial authorities are dismantling paramilitary networks by:
"Arresting and vigorously prosecuting under civilian criminal law individuals who have provided financial, planning, or logistical support, or have otherwise aided or abetted paramilitary organizations or successor armed groups;"
"Identifying and confiscating land and other assets illegally acquired by paramilitary organizations or their associates and returning such land or assets to their rightful owners;"
"Revoking reduced sentences for demobilized paramilitaries who engage in new criminal activity;" and
"Arresting, prosecuting under civilian criminal law, and when requested, promptly extraditing to the United States, new, re-armed, and non-demobilized members of successor groups, especially in regions in which these networks have or had a significant presence."
4. Stronger fumigation conditions.
The past few years' bills held up some funding for the purchase of herbicides until the State Department certified that the fumigation program posed no serious health or environmental risks, that people wrongly sprayed were being promptly compensated, and that alternative-development programs were active in areas being sprayed. Though compliance with these conditions is very debatable, the State Department has consistently produced certifications.
These conditions have been strengthened significantly. The amount of herbicide funding frozen pending certification has been increased from 80 to 90 percent. Several new certification requirements appear. In addition to past conditions, the State Department would now also have to guarantee that:
"The social dislocation and changes in vegetative cover caused by the geographic shifts in coca and poppy cultivation resulting from the aerial spraying program have been thoroughly assessed on a regional level, and effective measures are being taken to minimize adverse impacts;"
"All certification reports on the aerial eradication program are being made available to the public in a timely manner in both English and Spanish;"
"All claims [of harm to health and legal crops], evaluations, and compensation reports will be disclosed biannually to the public in both English and Spanish;"
"A minimum of 15 percent of sprayed fields will be subject to independent and randomly selected off-target damage assessments;"
"Programs are being implemented by the United States Agency for International Development, the Government of Colombia, or other organizations, in consultation and coordination with local communities and existing local development initiatives, to provide alternative sources of income in municipalities where security permits for small-acreage growers whose illicit crops are targeted for fumigation" – this condition is not new, but it now applies to municipalities, rather than the very vague "areas" as in past years; and
"Programs to provide food security to affected families are operative in areas where security does not permit alternative development programs."
5. Stronger conditions on support for paramilitary demobilizations.
Aid to demobilize ex-combatants, which is capped at $5 million, would again be subject to a list of conditions, most of them having to do with dismantlement of paramilitary networks.
A few new conditions appear. In addition to past requirements, the State Department would also have to certify that:
Those demobilizing "are not involved in threatening or intimidating human rights defenders;"
The Colombian government is immediately extraditing to the United States any indicted armed-group members "who are credibly alleged to have breached the terms of the Colombia Demobilization Program, including by failing to fully confess their crimes, failing to disclose their assets, or committing new crimes since the approval of the Justice and Peace Law;"
The Colombian government "is not taking any steps [such as the "land law" currently before Colombia's congress] to legalize the titles of land or other assets illegally obtained and held by FTOs [foreign terrorist organizations], their associates, or successors, has established effective procedures to identify such land and assets, and is vigorously confiscating and returning such land and other assets to their rightful owners," and that the government's reintegration programs for ex-combatants are not carried out using stolen land or assets;
Those who get reduced sentences through the Justice and Peace law "are serving their sentences in maximum-security penitentiary establishments, under conditions of detention that are appropriate to deter and effectively prevent them from continuing to engage in criminal activity;" and
"The Government of Colombia is promptly, impartially, and thoroughly investigating all attacks against human rights defenders allegedly committed by FTOs or other illegal armed groups."
The State Department's report on these conditions must list the Colombian government's actions taken to comply with these conditions, and indicate cases or issues for which the Colombian government's response has been inadequate. The report must also include "the views of Colombia's Attorney-General (Fiscal) and Inspector-General (Procurador) with respect to the Colombian government's actions."
6. Reporting requirements to improve transparency.
In addition to the certification reports listed above, the bill and the committee's narrative would require that Congress and the public be notified about:
Para-politics and Gen. Montoya: The State Department must provide a report – which could be classified if necessary – evaluating the truthfulness of allegations that top Colombian security officials have links to paramilitary militias. The Appropriations Committee's request for a report makes a specific reference to allegations surrounding the head of Colombia's Army, Gen. Mario Montoya: "The Committee is aware of reports alleging that the head of Colombia's army collaborated extensively with militias that the Department of State considers terrorist organizations, including a militia headed by one of the country's leading drug traffickers."
The strategy I: The proposed uses of all Andean Counterdrug Initiative funds "on a country-by-country basis for each proposed program, project, or activity."
The strategy II: The Secretary of State, in consultation with the Secretary of Defense, must provide a report "on the future, multiyear strategy of the United States assistance program to Colombia. The strategy should include all aspects of current and future United States assistance."
Colombianization: The State Department's bureaus of Political-Military Affairs and Western Hemisphere Affairs, along with Southern Command and the Defense Security Cooperation Agency, must provide a strategy "for reducing military assistance to Colombia in a gradual-managed approach to 'Colombianization' of the military package."
Infiltration: If the State Department must halt funds to a Colombian law-enforcement or intelligence agency because of reports that it has been significantly infiltrated by an armed group, it must certify to Congress that this illegal penetration has been eliminated before resuming funding to that agency.
4 Responses to "A guide to the House bill's proposed changes to Colombia aid"
Leave a Reply