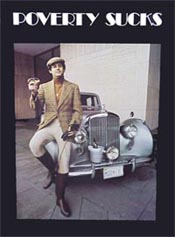 Several years ago, somebody in Colombia – I honestly don't remember who – told me the following rather grim joke:
If you're ever on a road in Colombia and get stopped by an armed, uniformed man who isn't from the security forces, you can usually tell what group he belongs to just by looking at him.
If his uniform, boots and weapon look shiny and new, he's probably a FARC guerrilla. [The guerrilla group's stream of drug money keeps its fighters well equipped.]
If his uniform is threadbare, his weapon is old, and he looks like he hasn't eaten well lately, he's probably ELN. [The smaller guerrilla group, which takes far less money from the drug trade, has lost income, numbers and territory.]
If he is as well-equipped as the FARC fighter, but is also overweight, has manicured fingernails and an expensive wristwatch …he's probably a paramilitary.
It's a poor joke. But it kept coming to mind while reading some of the weekend's news from Colombia.
First, from the interview with paramilitary leader Salvatore Mancuso that ran in Saturday's New York Times, this description of the confessed mass-murderer's cozy digs in the Itagüí maximum-security prison:
IN his prison cell here on the outskirts of Medellín, Salvatore Mancuso reads Gandhi and self-help books. He taps notes to his lawyers into a BlackBerry. He gazes at photos of his 19-year-old wife and 8-month-old son. He listens to vallenato music on his iPod.

… Under Colombia's lenient rules, Mr. Mancuso could end up spending much less than eight years in a prison where he is already allowed amenities like satellite television in his cell, bodyguards, visits each weekend from his wife, Margarita, and their son, Salvatore, and a laptop computer with Internet access, said José Miguel Vivanco, the Americas director for Human Rights Watch.
Then today, El Tiempo runs this EFE account of a weekend raid on two mansions in Medellín's tony El Poblado neighborhood, with a combined value of US$12.5 million, belonging to fugitive paramilitary leader Vicente Castaño and his deceased brother, Fidel.
The operation was carried out jointly by the armed forces and the prosecutor-general's office (Fiscalía).

According to the Noticias RCN television news program, "not even when the Medellín and Cali cartels were at their height were luxuries seen like the ones found" in the Castaños' houses.

Vicente Castaño, alias "El Profe," is a fugitive from justice, while his brother Fidel died some years ago.

Furs, imported crystal lamps, paintings, expensive and luxurious fixtures in the bathrooms, woven rugs and other decorations surprised the authorities.

As did the "landscaping" around the two houses, with vegetation befitting a tropical jungle and artificial streams running through.
One Response to "The AUC: membership has its privileges"
Tambopaxi Says:
July 31st, 2007 at 6:24 am

With the exception of the ipod and blackberry, these could have been descriptions of Pablo Escobar and his associates, back in the late 80's – early 90's…. How does it go? Plus le change…..
Leave a Reply