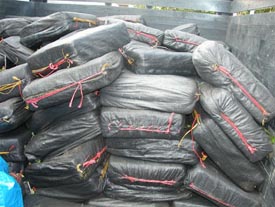 A 2005 drug bust in Jalisco, Mexico.
Last week, USA Today revealed the findings of a recently declassified Drug Enforcement Administration report on cocaine availability in U.S. cities.
Apparently, something has happened in the last year to reduce cocaine supplies and drive up the drug's price.
As evidence of the short supply, prices have spiked sharply and purity has decreased since September 2006, says the analysis, which previously had not been made public. A gram of pure cocaine sold for about $118.70 in the spring, a 29% increase from last fall. Purity decreases when dealers add other ingredients, such as baby formula and sugar, to stretch the supply.

Cocaine prices are at their highest since the DEA began calculating the price and purity data in April 2005, when a pure gram of cocaine sold for $93.63.
Why might this be happening? Could it be that, seven years and $5 billion later, Plan Colombia is beginning to work?
Not quite, according to the DEA.
Analysts found that Colombia, Peru and Bolivia, the main source countries for the U.S. cocaine supply, are growing and shipping the same amount of cocaine as in previous years.

"There is not more or less cocaine entering the pipeline," [DEA intelligence chief Tony] Placido says. Instead, he says, Mexican authorities apparently are stopping the cocaine before it gets to the USA.

…

DEA intelligence agents credit a crackdown in Mexico by President Felipe Calderón, who sent 3,000 troops to corral two drug cartels engaged in a violent turf war.

"This new Calderón government is really taking a tough stance, and it's really taking its toll on the trafficking organizations," says Tony Placido, the DEA's intelligence chief. About 90% of cocaine reaching the USA comes via Mexico.
In other words, with a few thousand troops and mostly with his own budget, Mexico's president has managed to do what 2 million acres of U.S.-funded aerial herbicide fumigation in Colombia have not: to create a serious disruption in cocaine's price and availability in the illegal U.S. market.
In the long term, this sudden cocaine scarcity will probably prove to be little more than a hiccup in a larger, decades-long trend of steadily dropping street prices. Either Mexico's drug cartels will recover from the blow President Calderón has dealt to their operations, or new crime syndicates will arise to fill the vacuum. The lure of enormous profits remains as strong as ever – especially now that the drug is a bit more expensive. "I would anticipate that over a period of time, like six months to a year," the drug traffickers will "be back in shape," criminologist Alfred Blumstein told USA Today.
Nonetheless, there is a lesson to be learned here. Interdiction – closing corridors through which drugs pass, while actively dismantling drug-trafficking organizations – appears to be much more effective than crop eradication, which disproportionately punishes the impoverished farmers at the bottom of the supply chain.
This is an old argument, though. A 1994 Rand Corporation study, funded by the Drug Czar's office and the U.S. Army, modeled what it would take to reduce U.S. cocaine consumption by 1 percent. The study's findings went so dramatically against the conventional wisdom that they still have not been assimilated today.
Rand concluded unequivocally that the most cost-effective anti-drug strategy is to expand treatment programs for the U.S. addict population. In fact, the study's authors calculated that one dollar spent on treatment would reduce cocaine consumption just as effectively as:
ten dollars spent on border interdiction (the approach Mexico's government is pursuing); or
twenty-three dollars spent on eradication (the principal focus of Plan Colombia).
The initial DEA data about Mexico's disruption of the cocaine trade seem to be proving Rand right: interdiction does yield better results than eradication. However, the best option – an expansion of drug-treatment programs – remains untried as the drug war grinds on.
3 Responses to "Scarcer cocaine, no thanks to Plan Colombia"
Colombia » Blog Archives » Scarcer cocaine, no thanks to Plan Colombia Says:
September 25th, 2007 at 5:07 pm

[...] Scarcer cocaine, no thanks to Plan ColombiaA 2005 drug bust in Jalisco, Mexico. Last week, USA Today revealed the findings of a recently declassified Drug Enforcement Administration report on cocaine availability in US cities. Apparently, something has happened in the last year … [...]

4×4 Evo 2 » Scarcer cocaine, no thanks to Plan Colombia Says:
November 14th, 2007 at 7:59 am

[...] stowe.boyd@gmail.com (Stowe Boyd) wrote an engrossing place today onHere's a hurried excerptA 2005 take assail in Jalisco, Mexico. Last week, army Today revealed the findings of a fresh declassified Drug Enforcement Administration inform on cocaine availability in US cities. Apparently, something has happened in the terminal assemblage … [...]

We're Responsible « Todos Somos Geckos Says:
January 6th, 2009 at 11:53 pm

[...] consuming cocaine – usage rates have held steady, b. reduce the availability of cocaine, beyond occasional blips, or c. provide support for addicts rather than criminalize their behavior. (Studies have shown [...]
Leave a Reply