Note as of 2:00PM: I've heard that some have had trouble accessing the Colombian Presidency's apparently overloaded server to view the proofs of life. The pictures can also be downloaded here, and the (very sad) video can be viewed here on YouTube.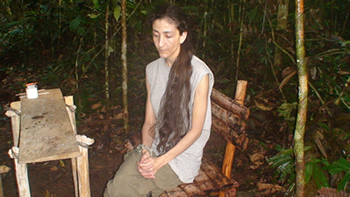 The Colombian government announced a few hours ago that, while carrying out operations against FARC urban units in Bogotá, soldiers and prosecutorial investigators captured three people with videos, letters and digital photos providing recent evidence that many of the guerrillas' hostages are still alive.
The Colombian Presidency's office has posted the photos and a soundless video. They are heartbreaking and hard to watch. Ingrid Betancourt, gaunt and with long hair, stares at the ground. The three U.S. citizens appear in the videos and in photos, each standing near a wooden chair in the midst of thick jungle.
The photos are dated October 23 and 24, though a few – including those of the U.S. hostages – are dated January 1, probably a digital-camera error.
The FARC produced these images in response to a request from Venezuelan President Hugo Chávez, a request that was seconded by other governments and individuals who were accompanying the prisoner-for-hostage-exchange mediation effort that ended so abruptly last week. When the process ended, we were left wondering whether the FARC had even made this small concession. It turns out that they had.
These "proofs of life" were intended to be a show of good faith, an initial step to move the process forward. Today, though, there is no process.
That is unacceptable. These photos make clear the urgency of re-initiating contacts and working, patiently and persistently, to bring these people home.
11 Responses to "Proofs of life"
Leave a Reply